In Memory
Larry Edwards - Class Of 1966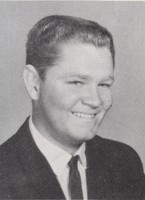 As reported by Linda Wallis (MissWallis@aol.com ) and Kathy Knox Edmiston (lrkk1x@frontier.com ) both of Class of '67 have notified me that Larry Edwards Class of '66, passed away Tuesday 9/30 in Fontana where he was in the hospital. Larry in Spirit has come home to the 'Halls of Valhalla.' Where he joins all the others who have preceded him, he will always be remembered with bigger than life smile and loved by many from MoVal and the community… Lest we forget! His service is Oct 8th at Preston & Simons Mortuary, 3358 Mission Inn St., Riverside. Visitation is 9:30 to 11:30 am with services at Noon at Olivewood Memorial Park, 3300 Central, Ave., Riverside.
No longer with us in body, but never forgotten in spirit, death can show us the way, for when we know and understand completely that our time on this Earth is limited, and that we have no way of knowing when it will be over, then we must live each day as if it were the only one we had.
Life is so fragile. EVERY DAY IS A GIFT . . . Remember, It is not how we die that is our legacy, but how we lived the Life we were given. Please post a note of remembrance for those who live on in our hearts and memories.
UPDATE...
Larry Claude Edwards
1948 - 2014 | Obituary
LARRY CLAUDE EDWARDS Passed away 9/30/14 at the age of 65. Born 10/22/48; lived in Moreno Valley his whole life. He is survived by his brother David and sister-in-law Jackie Holmes; sister Nancy and close family friend Kay Therrien; niece Hope, and numerous aunts, uncles, cousins and godchildren.
Visitation: 10/8/14, 9:30-11:30 at Preston & Simons Mortuary in Riverside (951) 683-7410
(951) 683-7410. Graveside services: 10/8/14, noon at north (new) side of Olivewood Memorial Park. In lieu of flowers, please send contributions to the Begin AdTech Script American Heart Association