In Memory
James Abubo - Class Of 1971 VIEW PROFILE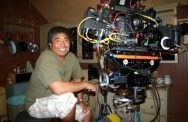 Jimmy passed away February 22nd of heart failure. I found out around a month ago and was floored. I felt so bad because the few months before he died I had been so caught up in my own world due to my mom's health issues, and just life in general that I didn't always respond to his emails. I had emailed Jimmy a few times right around the time he died (some old Sunnymead pictures) and figured that since I hadn't heard back from him, he was mad at me. Broke my heart when I heard he was no longer with us. After my brother died Jimmy and I became online pals and he shared with me many tales of my brother from 'back in the day'.
I spoke to his business partner, Cris Borgnine (yep, Ernest's son) a couple of weeks ago and apparantly a surf movie they had been working on is still on track and Cris said he would keep me up to date on the movie as it will be dedicated to Jimmy. I will keep you up to date also when I hear anything.
According to Cris, Jimmy was on his way back down to So Cal from where he lived in Northern Cal, stopped in a hotel for the night, and died sometime during the night. So sad that he was alone in a hotel.
I asked Cris if there was any online memorial site for Jimmy and unfortunately no. I maintain an online guestbook for my brother and even though this month will be five years since he died, as recent as March of this year people still post to it. That always means so much to me, and I was hoping that there would be something similar out there for Jimmy. I know a few people have posted on Jimmy's bulletin board at classmates since his passing, and that is kind of the extent of it.
Anyways, I will keep you up to date on the surft movie and if I find an online memorial site for Jimmy, will let you know.
********************************************************************************************************************************

I just learned yesterday I heard from Buddy Jackson who was notified by Liz Meehan. I don't know how she knew but I understand what you mean about the rule thing. They said that he had a heart attack on Feb 22.09.
I had heard from him on 2/21 so it was even more on my mind. He left me a very cute message.I remember thinking if there is one guy that would never have heart issues it should be him always smiling and happy, how ironic. He was a doll anyone who knew him thought that! Buddy said he was still in shock and they were friends too!..
To see more write ups on Jim please go to the Classmates.com and see his profile and pictures... Terry
Click here to see James' last Profile entry.