In Memory
Gina Sweeney (McUne) - Class Of 1973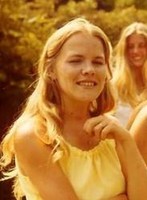 Dec. 7, 1954 - Nov. 18, 2008

CHESTERFIELD — Gina Lynne (Sweeney) McUne, 53, Chesterfield, died Nov. 18, 2008, at her residence after a courageous battle with cancer.

She was born Dec. 7, 1954, in Spokane, Wash., and resided in Chesterfield. She was a nurse at Central Indiana Orthopedic and had previously worked at Delco Remy Cafeteria Services as a cashier.

Over the years, she touched many lives with her outgoing personality and will be greatly missed by all who knew her.

She attended Aletheia Fellowship. Gina loved gardening and yard work. She also enjoyed camping.

She is survived by her husband of almost 25 years, Michael McUne; son, Joshua P. Steele; sister, Karen (husband, Tom) Malapit; brother, Terry Sweeney; many special friends; and several nieces and nephews.

She was preceded in death by her parents, Vern T. and Helen (Lundstrum) Sweeney; and a brother, Michael Sweeney.