In Memory
Richard Coplin - Class Of 1966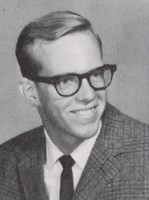 As reported by his sister, Karen Coplin Coombs ('68)
My brother Richard Coplin ('66) passed 3 August 2012 and has gone on to join all the others in the 'Hall of Valhalla' we honor his memory there.
Rick was born 9 November 1948 and was just 63. He was a MoVal Viking that chose to serve honorably in the Army with distinction.
He is survived by: His wife, Brenda Murrah Coplin ('67), his sister, Karen Coplin Coombs ('68) and younger brother, James Coplin (1971)
Rick Coplin and his wife Brenda retired to Denton Texas in March of 2012. They lived near their oldest son and their grandchildren. Already retired for several years, Rick was able to spend time with his grandkids fishing, working/playing on the computer, watching a movie, or just whatever he wanted. He loved them so dearly. Rick was busy in the computer world with hundreds of friends there. He was also busy as a servant of the Lord with hundreds of friends that he sang with, worshiped with, communed with and enjoyed the talents God gave them all. Vikings will remember him from Baseball and Basketball and being in the first class to graduate from MVHS. There was so much more to Rick than this space allows. I loved him so much and miss him dearly. He was my big brother.
He will forever be in our hearts.
Karen Coplin