In Memory
Gordon Miller - Class Of 1966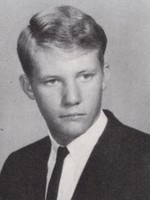 It is with sadness that I report the loss of Gordon Miller (Class of 1966.) His sister and my friend, Libby wrote me and gave me this info:
My older brother,Gordon Miller passed away on12/13/2013 at 10/30am. I was there at his side to the end. I will miss him every day of my life, but know it was time for him to go. He fought his disease with so much courage, lived much longer than anyone ever predicted. His family and friends are all so sad, but glad that he is no longer suffering.
Gordon would not want a big service. We are having a small wake at my daughter's home at 1pm, next Saturday the 20th. If anyone wants to come they can email me
Libby Miller Sustachek
Gordon in Spirit has come home to the 'Halls of Valhalla.' Where he joins all the others who have preceded him, he will always be remembered with bigger than life smile and loved by many from MoVal and the community… Lest we forget!