In Memory
John Combs - Class Of 1966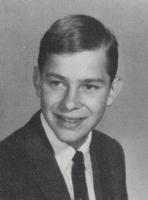 As reported by Joy Valdez Grant (
Deceased Viking: John C. Combs 1966
Date Of Birth: 11-13-1948
Date Deceased: 04-29-2018
Age at Death: 69
Cause of Death: Heart Failure
Viking City: San Gorgonio
Viking State: CA
Viking Country: USA
Was a Veteran: Yes Army
Survived By: Wife, Ann (Grant) Combs Daughters: Erin Combs and Shannon Combs Grandchildren: Jade Combs, Aniya Combs, Jahphilia Combs, Johanis Combs Great Granddaughter Aamiya Smith

John was an Anglican Priest who gently lead his congregation for more than 40 years. He was a survivor and suffered cancer caused by Agent Orange contracted during his service in Viet Nam. John was loved by all who had the pleasure to meet and know him!