In Memory
Alida Retherfords (Hughes) - Class Of 1973 VIEW PROFILE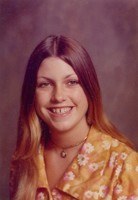 As reported by her lifelong friend… Shirley Byron shirleybyron@msn.com ('72)
Our Viking sister Alida Retherford Hughes ('73) born in 1955 passed on the 9th of February 2013 at the age of 57, she was living in Benson, AZ… She was a Veteran. She is survived by: Children: Angela Hughes Gepson, Brett Hughes, Cameo Hughes, Ember Hughes . Sisters: Lenny Retherford and Sarah Retherford.
She is now back at MoVal in the halls of Valhalla with the many who have proceeded her, may she enjoy those times once again when the sun was warm and we were young an innocent…

Shirley goes to report that, it saddens me so much to lose my high school friend of which lived down the street from me and we hung around together… I have such wonderful memories with Alida from school and after we became adults. My heart, thoughts and prayers go out to her children and sisters… I miss her so much; I talked to her about 3 months ago on the phone for about two hours. Her memorial is Saturday Feb 16th at the Hughes home in Tucson Arizona. I love you Alida my dear friend and will miss you dearly. You're with the Angels now.
Click here to see Alida's last Profile entry.