In Memory
David Wade - Class Of 1971 VIEW PROFILE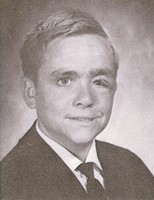 As reported by Mitzi Lott Olds '73:
Deceased Viking: David Wade (1971)
Date Of Birth:
Date Deceased: May-31-2010
Age at Death:
Cause of Death: Murdered Gun Shot Wound
Viking City: Sunnymead
Viking State: CA
Viking Country: USA
Survived By: David was the last surviving person in his family

David had given his life to God quite a few years ago and helped many people who were down and out. David was murdered by someone whom he had opened his home up to for many years, the person who murdered him was a veteran with problems from the nom war and on Mermorial Day 2010 he took David's life as well as his own. David will be missed.
Click here to see David's last Profile entry.