In Memory
Lorrie Gardner - Class Of 1982 VIEW PROFILE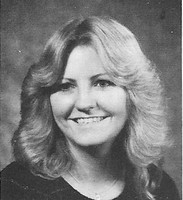 As reported by her life long friend Wendy Sheppard Lee.
Deceased Viking: Gardner, Lorrie (1982)
Date Of Birth: 09-11-1964
Date Deceased: 06-23-2011
Age at Death: 46
Cause of Death:
Viking City: George Town
Viking State: CA
Viking Country: USA
Survived By: Sherrie Haenny, (Sister) J.D. (Son) Stephanie (Daughter) Robert( Son) Maddox(Grandson). April Haeny(Niece) Amanda Stahl(Niece) Aunt's, Uncle's and Cousin's and Friend's.

I've known Lorrie since i was 3 years old. After she went to be with our Lord and Savior, I searched for pictures of us. in almost all of the pictures I found from around five years old up to my wedding in 1984 she was always on on my right hand side. Are Father's worked together and got to be friends. That turned in to Friday night dinners, camping trips,ect... The night she passed I was out on my patio and a song came on the radio called Stand by me.We do not realize at the time how precious are friends our that have been placed in our lives are until they are gone. Until we meet in heaven, your friend Wendy


Click here to see Lorrie's last Profile entry.