In Memory
H. C. Jones - Class Of 1983 VIEW PROFILE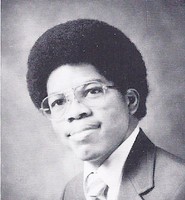 As reported by his friend Gloria Franklin '83 (globugf@aol.com)
HC (Carlos) Jones Jr., 19 Nov.1965 – 18 Nov. 2009 of Tucson, Arizona age 43, of Tucson, AZ formally of Wilmington, DE passed away peacefully on Wednesday November 18, 2009. He was the loving husband of Amy Jones with whom he shared 6 years of marriage.
Born at Beale AFB to HC and Luevina Jones, he attended Moreno Valley HS and University of California Irvine.
He was employed by the Boeing Company as an engineer for 15 years. His job took him and his family to several different states where he enjoyed exploring the area and discovering new churches.
He enjoyed learning about many different things and often spent hours researching topics online or taking online continuing education classes. He shared his passion for travel with his family and most recently took a Disney Cruise. A love of shopping and knowledge often lead friends to seek out his advice. Aside from spending time with friends he loved to be with his wife and children exploring the area or on weekend getaways.
In addition to his wife and parents, HC is survived by his children Nathanael and Lauren (at home), and a host of Aunts, Uncles and cousins. HC left a huge footprint on this world and will be sadly missed by those who knew and loved him. link to obit http://beesonfuneralhome.tributes.com/show/HC-Jones-87357551 Loved to shop and computers Also went to college with him at UCI, overall loved by everyone
A celebration of life ceremony will be held on December 12, 2009 at 4:30pm at Beeson Funeral Home of Wilmington, 412 Philadelphia Pike, Wilmington, DE, where the family will start to receive guests at 4:00 pm.
In Lieu of flowers, the family suggests contributions in HC's memory be made to the Sickle Cell Disease Association of America, Inc., 231 East Baltimore Street, Suite 800 Baltimore, Maryland 21202.
Online condolences may be sent to:
www.griecofuneralhomes.com
Beeson Funeral Home of Wilmington
"A Grieco Family Funeral Home"
Click here to see H. C.'s last Profile entry.