In Memory
Danny Longoria - Class Of 1976 VIEW PROFILE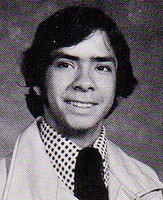 Inline Image Not Displayed
As reported to me by Terri Lane Bothwell Class of 1976, a lifelong friend of Danny's. Although this is a late entry our friend and classmate Danny Longoria has returned to the 'Halls of Valhalla' where he and all the others reminisce of times when the weather was warm and a time of innocence (well maybe not all that innocent! – But the statute of limitations has run out on the pranks and fun we had as kids. Although I did not personally know Danny, I had the opportunity to learn and know more about him on Facebook and his memorial page through the pictures and thoughts expressed.
https://www.facebook.com/pages/The-Longoria-Memorial-Page/262581086156?id=262581086156&sk=info
He was a cut up and enjoyed life, he ran track and had many friends while at MoVal. He joined the Air Force and later the Police Department. His official Obit is located at http://obits.abqjournal.com/obits/show/113765

Inline Image Not Displayed
Danny Longoria, 44, a resident of Rio Rancho, died on December 24, 2002. He is survived by his wife, Terrie of Rio Rancho and his 6 year old son, Joshua Daniel; parents, Daniel and Tina Longoria of Tucson, AZ; 5 sisters, Mary Jane Jones and husband, Gary of Rio Rico, AZ, Debbie Ard and husband, Jerald of Tampa, FL, Connie Radtke and husband, Chris of Tucson, AZ, Anita Curran and husband, Joe of Tucson, AZ and Dee Dee Rhoten of Huntington Beach, CA. He is also survived by numerous aunts, uncles, nieces, nephews, cousins and friends. Danny was a member of the Albuquerque Police Department since February of 1986 and was a detective in the Auto Theft Unit for several years. He was a General Manager for the Sunset Little League and was involved in foster care for Children Youth and Families Department. He was an avid softball player in the Rio Rancho Softball Complex. He was a purple belt with the Bushido Kempo Karate Association. Rosary will be recited on Friday at 7:30 p.m. at St. Thomas Aquinas Catholic Church, 1502 Sara Rd SE, Rio Rancho, NM. Mass of Christian Burial will take place on Saturday at 10:30 also at the church with Monsignor Douglas Raun, celebrant. Burial will follow at Mt. Calvary Cemetery. Pallbearers will be the APD Auto Theft Unit consisting of, Sgt. Joe Byers, Detective Gene Marquez, Detective Tim Fassler, Detective Joyce Montoya-Roach, Detective Gloria Baca and Detective Louie Sanchez also, Nick Dimas, Chris Ybarra, T.J. Fitzwater, Gary Jones, Jerald Ard, Chris Radtke and Joe Curran. Friends may visit French Mortuary Westside Chapel, 9300 Golf Course Rd NW (3 blocks N. of Paseo del Norte) on Friday from 3:00 p.m. until 6:00 p.m. In Lieu of flowers, memorial contributions may be made to the education fund for his son, Joshua at the Rio Grande Credit Union, in Danny Longoria's name.
Click here to see Danny's last Profile entry.